EOSUSD
PAIR:EOSUSD
LITTLE FUNDAMENTAL ANALYSIS ON EOS
After reaching an ATH of 23.1usd, EOS has lost -48.47% down to its current price(11.8usd) as the bearish slightly continue.
A quick recap of EOS fundamental analysis:
EOS software introduces a new blockchain architecture designed to enable vertical and horizontal scaling of decentralized applications.
This is achieved by creating an operating system-like construct upon which applications can be built.
SNAPSHOT
Age 11 mos
Marketcap (current) $10.5B
Marketcap (Y2050) $17.2B
Price (USD) $11.80
Price (BTC) 0.0016฿
24hr Change (%) -3.18%
24hr Trade Volume $1.8B
All Time High $22.89
All Time High Date 2018-4-29
% down from ATH 48.47%
EOS ROI
1 week -8%
1 month -43%
3 months 35%
6 months 305%
June 1st has loads of great news for this coin and it ecosystem as shown below:
TECHNICAL ANALYSIS ON EOSUSD
Wth a drastic move down to 11usd and might likely move lower, the trend in price will determine either a contious bearish move or a bullish reversal the following will be used to analyse EOSUSD chart:
- chart pattern( FALLING WEDGE)
- Bolinger bands
THE CHART PATTERN ( FALLING WEDGE)
As you see, the bottoms are decreasing, but the tops are decreasing at a faster pace moving down both of them moving down to reach any next support level which is pegged to be between 10usd down to 9usd.
It has two trendline in which price will touch at least minimum of 3 times moving lower ranging between 12.56usd( 0.382fib) down to 10usd(0.236fib). As the diagonal resistance has be made and the diagonal support has also been made, it is expected that price will move lower.
AS SHOWN BELOW: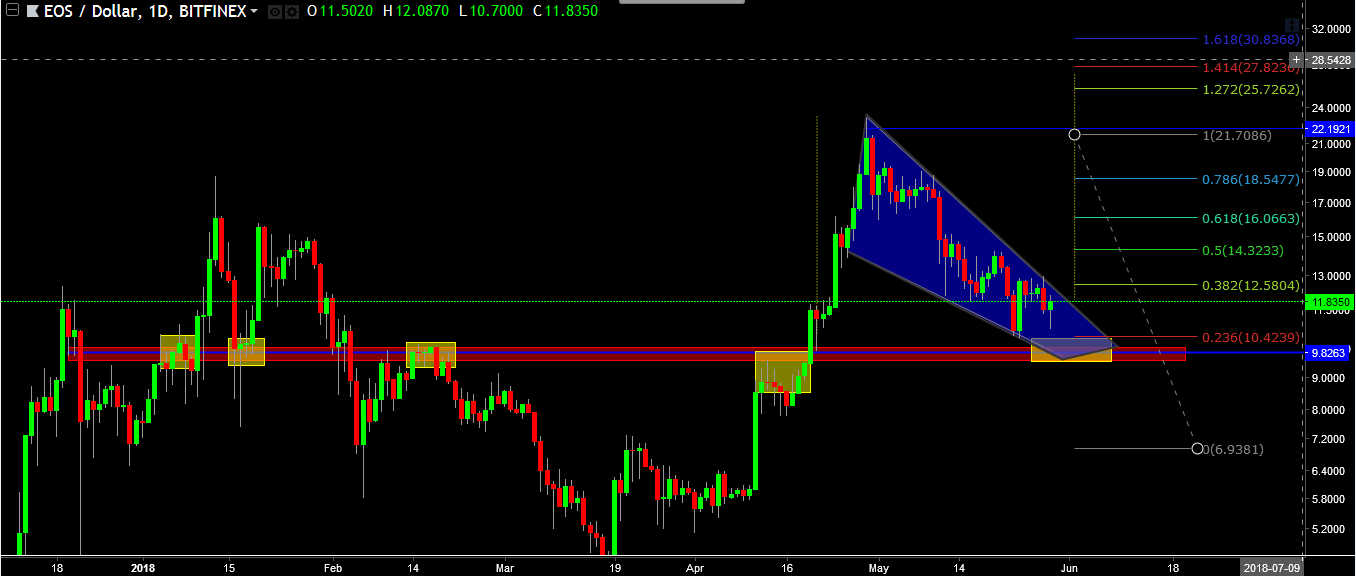 BOLINGER BANDS
The second bb tighest squeeze of the year. When the bands comes together not indicating a point of coming apart this is called CONSTRICTION, which is currently about to happen as the two bands are coming close for a tight sqeeze. Volatility is decreasing and immediately after the squeeze one way breakout of in price will surely take place either BULLISH EXPANSION or BEARISH EXPANSION.
Technicals suggests that the above the BB and the chart pattern used to analyse the price trend still hold a little bearish move to the downside. This give the trader more opportunity to buy the dip. The price targets 10.7usd down to 9usd as a good price zone to accumulate or for long term hold, buying at its current price should also be considered as well.
Disclaimer: This is for educational purposes,it is not intended as a financial advice.
The analyst won't be responsible for a loss of fund. Trader should be able to manage risk.
$COV HODL